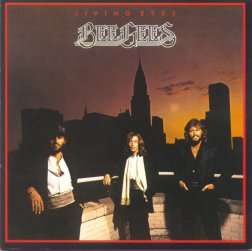 The follow-up to Spirits Having Flown, Living Eyes is considered by most to be a transition album because it represented a departure from all the falsetto of their more recent works. In fact, there is very little falsetto that can be heard on this entire album.
While Living Eyes has been panned by fans and critics alike - either you love it or you hate it - there are some tracks that in my opinion can stand up with the best that the Bee Gees have to offer. For example, He's A Liar even though it seems to have a rather strange theme, is still a solid rocker, featuring Don Felder of the Eagles on lead guitar. Another fine track is Wildflower, which bears more than a mere nod to the harmonies that have consistently kept the Bee Gees on the musical map.
While the title cut is neither good nor bad as a song, the asynchronous rhythms give one pause to listen to this track more closely. The album finale, Nothing Could Be Good is uneven at best. In summary, while it is neither their best nor worst album there are more good cuts than bad on this album, and it should definitely be added to your collection.
Page 5 of 24
Records 81 - 100 of 465